Introducing Advanced Management Insight, Inc (AMI). We are excited to announce that AMI has been established as a CAI subsidiary. The organization will operate under the brand name TrueProject, representing the flagship product of this newly formed company.

Gain Early Warning for Troubled Projects Weeks or Months in Advance
CXOs, Executives, and Managers can now gain insight into their projects' health while there is still time to act. TrueProject accurately predicts troubled or even failed projects weeks or months in advance.
What is TrueProject?
TrueProject is a SaaS management oversight solution that utilizes predictive intelligence to protect organizations from troubled projects. It provides continuous oversight of all projects and alerts management to those in need of attention.
A percentage of projects will have modest to intermediate problems that, if not identified early, will grow into more significant issues. Others fail outright. It is critical to eliminate these situations. TrueProject is your disruption insurance.
Key questions to consider:
What would it be worth to you to know, weeks or months in advance, which projects are headed for trouble?
What would be the value of a consistent, independent, professional second-opinion review of your projects?
Are you 100% sure of your ARR renewals and how your project delivery can and will affect that?
Read the Brochure   
With oversight provided by TrueProject:
You can reduce labor project costs by up to 30%.
Projects come in on-time, on-budget, and meet needs.
Receive advanced warning for troubled or failing projects.
Accurately Predict Project Health
Answer the question
"Am I going to make it?"
TrueProject's predictive analytics show if your project is on the right path, providing project oversight and governance for all your projects. It is an independent third-party automated review that collects, analyzes, and reports on your projects.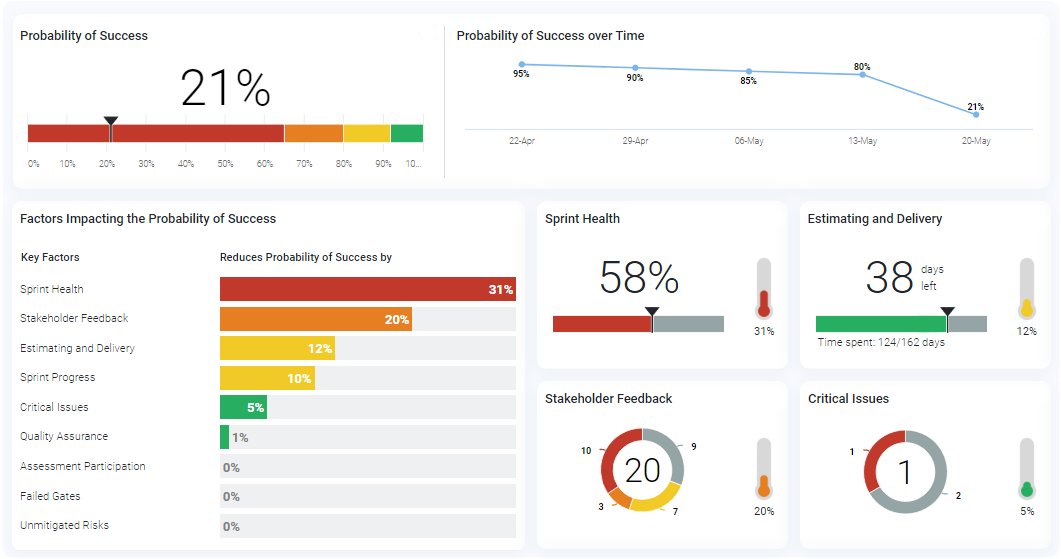 Early Risk Identification
Identify key factors that impact performance
TrueProject performs the analysis for you and cuts through the project management noise, allowing you to discover the critical items needing attention with automated data import and analysis.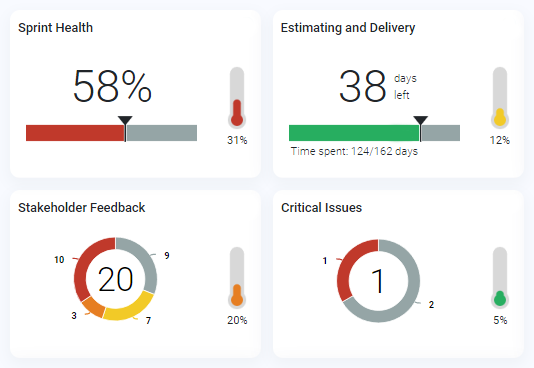 All in One Place
Critical project health information, centralized
TrueProject's dashboards are designed with configurability in mind. Stemming from this is the ability to have a "one-stop shop" for data across the board, no matter the project's type.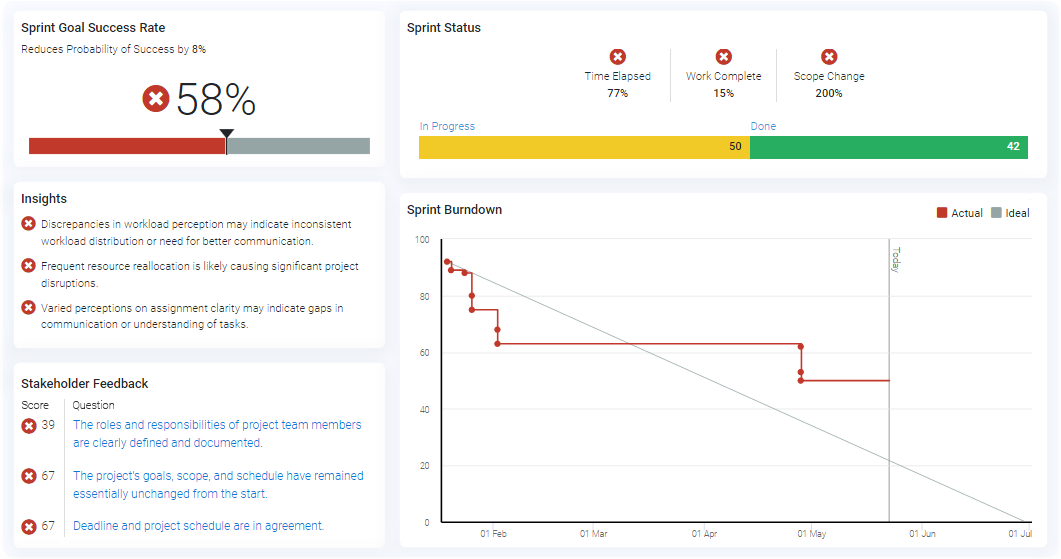 We Turbocharge
Your task and PM systems
TrueProject is NOT, nor does it replace, a task management or PM system. Rather, it substantially enhances the ability of your existing systems by integrating data from Jira, MS Project, Monday.com, Asana, or others.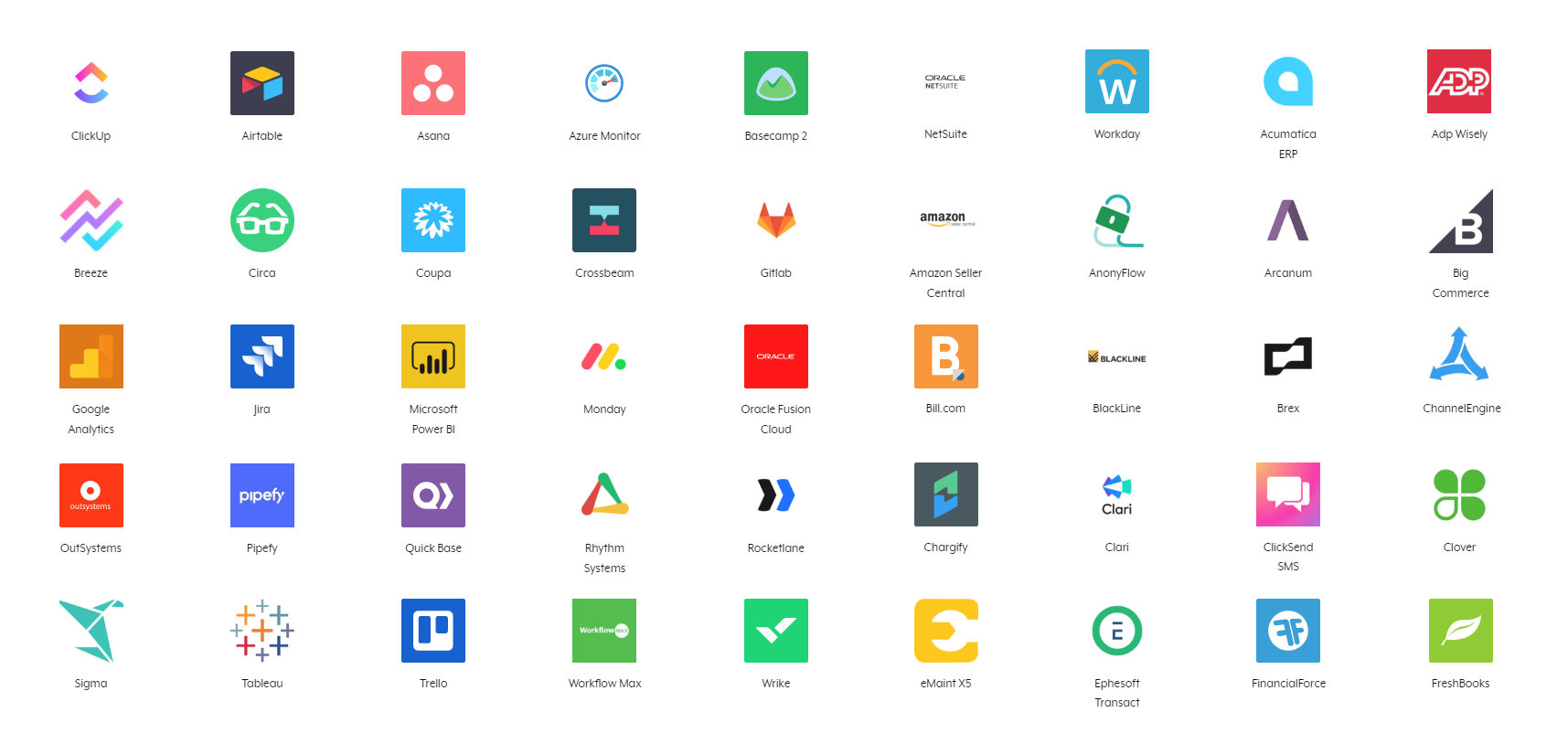 Let us prove it
See how TrueProject protects your organization from project failure. We look forward to showing you TrueProject live and answering all of your questions. See a high-level overview, including:
  The Early Warning Signs of project failure
  How Strategic Project Intelligence drives project success
  How TrueProject predicts and proactively reduces project risk
With a one-time, 12-minute investment by team members, the TrueProject HealthCheck lets you pilot the predictive power of our SaaS solution:
  No training required
  No systems to connect to
  PMI-certified consultant delivers a summary output meeting with detailed reports that are yours for the keeping
  100% credit toward a TrueProject subscription
  See sample report
Get a complimentary Project Value Realization (PVR) output. Complete our quick assessment, and we will show you how much money your organization is leaving "on the table" and how much you stand to gain with TrueProject:
  Learn how your processes can dramatically affect success
  Gain insight into how you can reduce costs
  Implement more projects within the same time and with the same investment dollars
About us
Our company is CAI, a 41-year-old, $1.1B technology solutions and services provider headquartered in Allentown, PA, serving enterprise, mid-tier, and emerging clients. With thousands of successfully delivered projects, our TrueProject predictive intelligence SaaS solution for project health is built upon a real-world bedrock set of experiences.
TrueProject HealthCheck

With a one-time, 12 minute investment by team members the TrueProject HealthCheck lets you experience the predictive power of our enterprise solution. 100% credit goes toward a TrueProject subscription.
Interested in hearing more?
Content image
Image