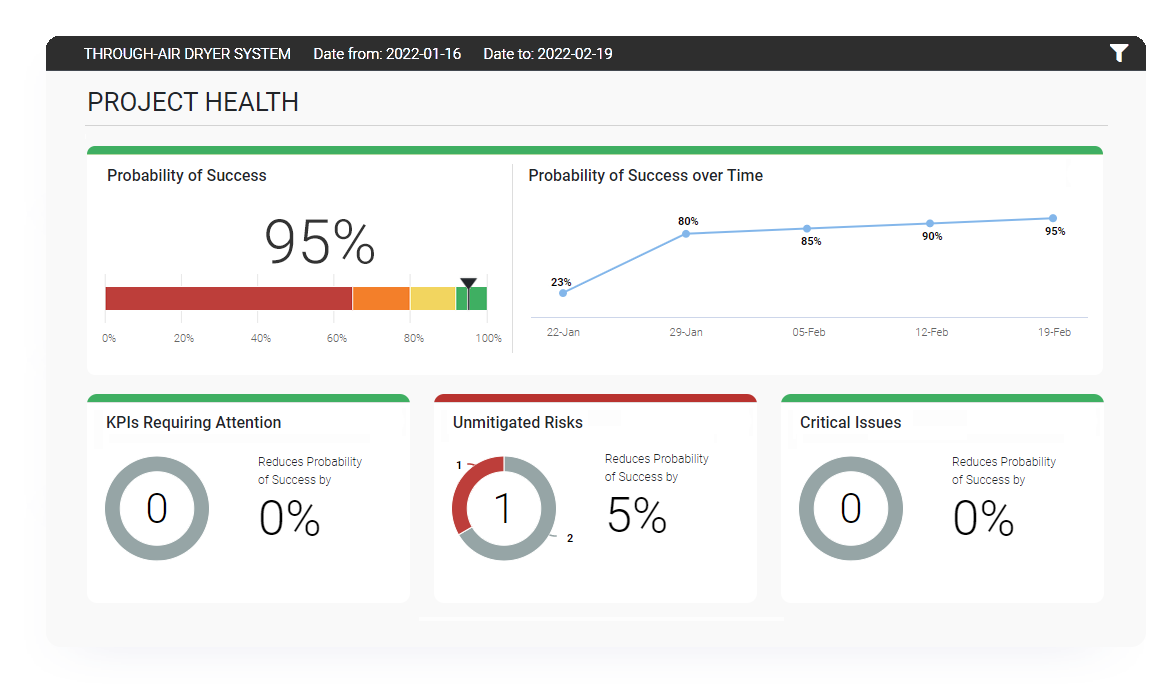 Protect your organization from costly project failure.
TrueProject confirms best practices compliance, identifies non-productive activities, and predicts project risks while there is time to act.
No more surprises
The Predictive Intelligence Solution for Project Health.
TrueProject predicts project problems before they become the catalysts of project failure so you can ensure project success every time.
Top-notch support
On-demand access to our Customer Success Team for any help you may need.
Great cost savings
Stop losing money on troubled or failing projects.
Failure protection
With best practices compliance and proactive risk mitigation.
Ask the right questions
Gain valuable insight with stakeholder feedback.
Discover underlying risks and issues through simple online assessments automatically sent to each team member. TrueProject provides a smooth and non-intrusive experience for your teams, whether they access the assessments from their phone, desktop, or tablet.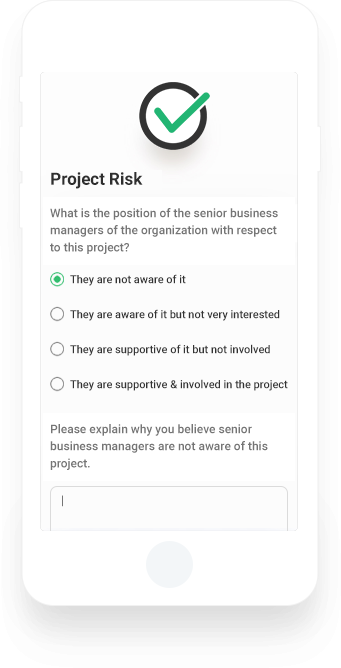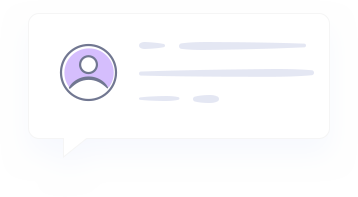 Measure what matters
Know the key factors that impact project performance.
Cut through the management noise and discover the key items in need of your organization's attention.


Metrics-based-research
Learn from past performance.
TrueProject benchmarks your organization's knowledge, behaviors, and processes against a repository of successful and challenged projects. It looks at the people aspects of your project, as well as the process aspect identifying those areas in need of attention, while there is still time to act.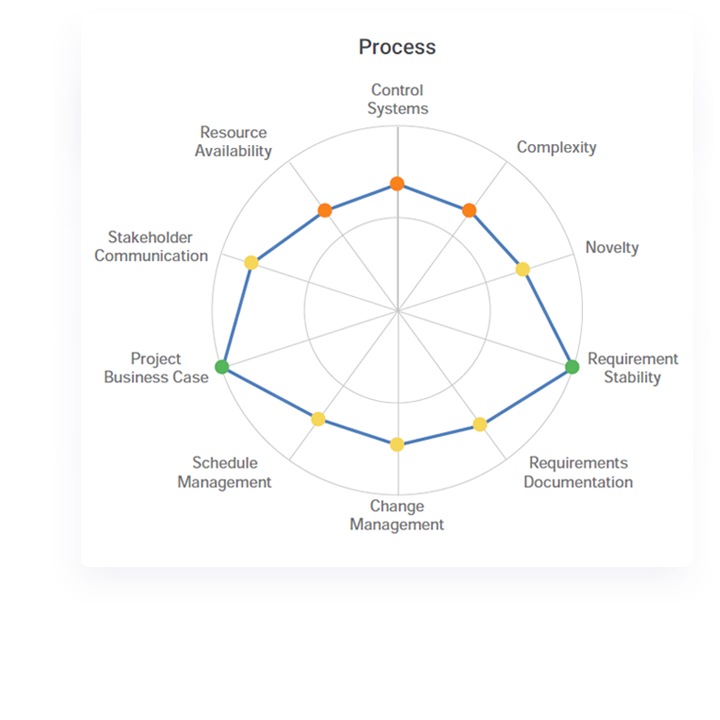 Get back on track, fast
Highlight those top items in need of attention.
TrueProject guides you through your results, highlighting key areas needing your attention. We work with you to identify and recommend corrective actions.
Decisive, actionable insights
Make data-driven decisions.
Rich data analytics drill down into those items needing attention to provide enough data for organizations to make a data-driven decisions.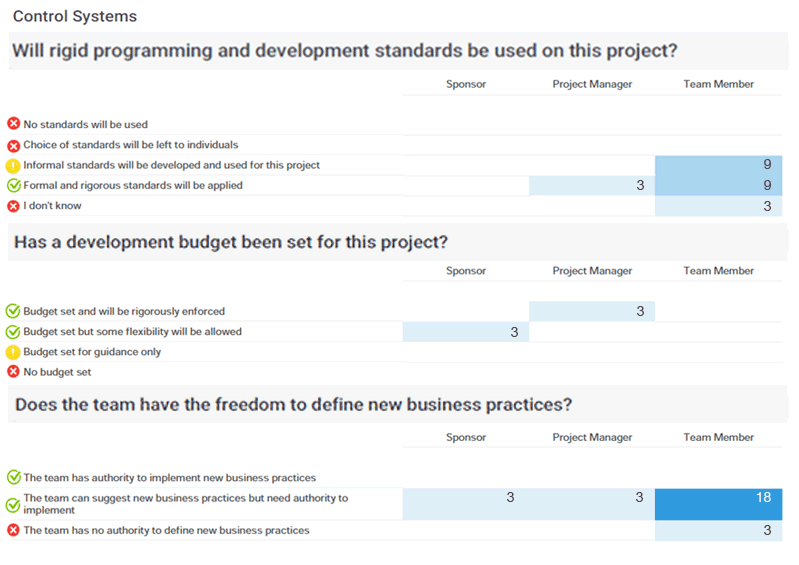 Critical analytics at a glance
Answer the question "Are we going to make it?"
TrueProject's predictive analytics show if your projects are on the right path. Enhance your insights with independent third-party expert validations through Virtual Project Office services.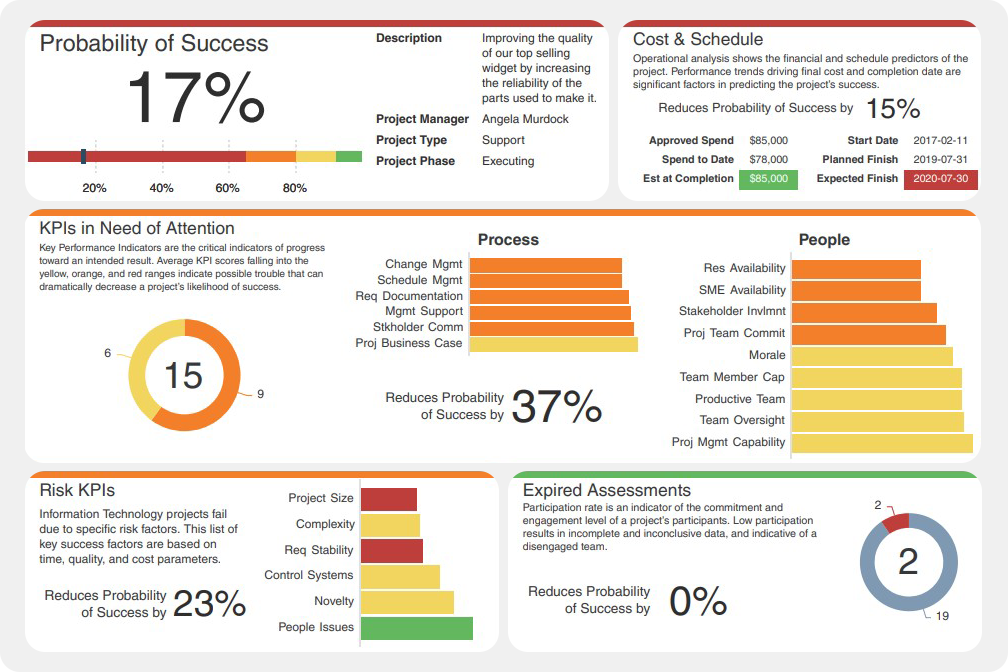 TrueProject helps organizations of all industries and sizes achieve project success.
Now organizations can save money and projects by monitoring the factors that are the Early Warning Signs of project problems.

Dr. Robert Charette

International Risk Management Expert President,

ITABHI Corporation
Coupled with project assurance, we have saved taxpayers an estimated $280 million that would have been lost to failed or challenged technology projects.

Tom Fruman

Director of Enterprise Governance and Planning,

Georgia Technology Authority
Being a consulting service provider, TrueProject provides us with customizable project oversight, with enhanced success rates leading to happy clients.

Roger Barker

Director, PMO, Systech Solutions, Inc.
There is nothing out there like this. It was obviously developed by someone who understands how a PMO works.

Capers Jones

Author and Chief Scientist Emeritus

of Software Productivity Research, Inc. (SPR)
After five or six months of using TrueProject, our team unanimously voted to continue its use due to the tremendous value each of our team members received from it.

Brendan Rovan

Director of Solution Delivery,

Florida Department of Financial Services
This solution provides a governance layer of process discipline, best practices, and predictive analysis to reduce risk.

Calvin Rhodes

Chief Information Officer,

Georgia Technology Authority
TrueProject provides us a competitive advantage in our client engagements. The ability to highlight issues before they happen can significantly reduce cost and time over-runs.

Bala Varadarajan

COO, Systech Solutions, Inc.
Next
Previous
Content image
Image